Develop Blossoming Memories with our Plant Wedding Favors Your Guests Will Adore
Are you racking your brain, trying to find a wedding favor that is both unique and eco-friendly? We feel your pain.
But guess what – the solution might be more organic than you think! Our article is brimming with ideas on plant-themed wedding favors that not only resonate with your green values but also promise to leave an enduring impression on your guests.
Our Favorite Plant Themed Wedding Favors
Miniature Terrariums Wedding Favors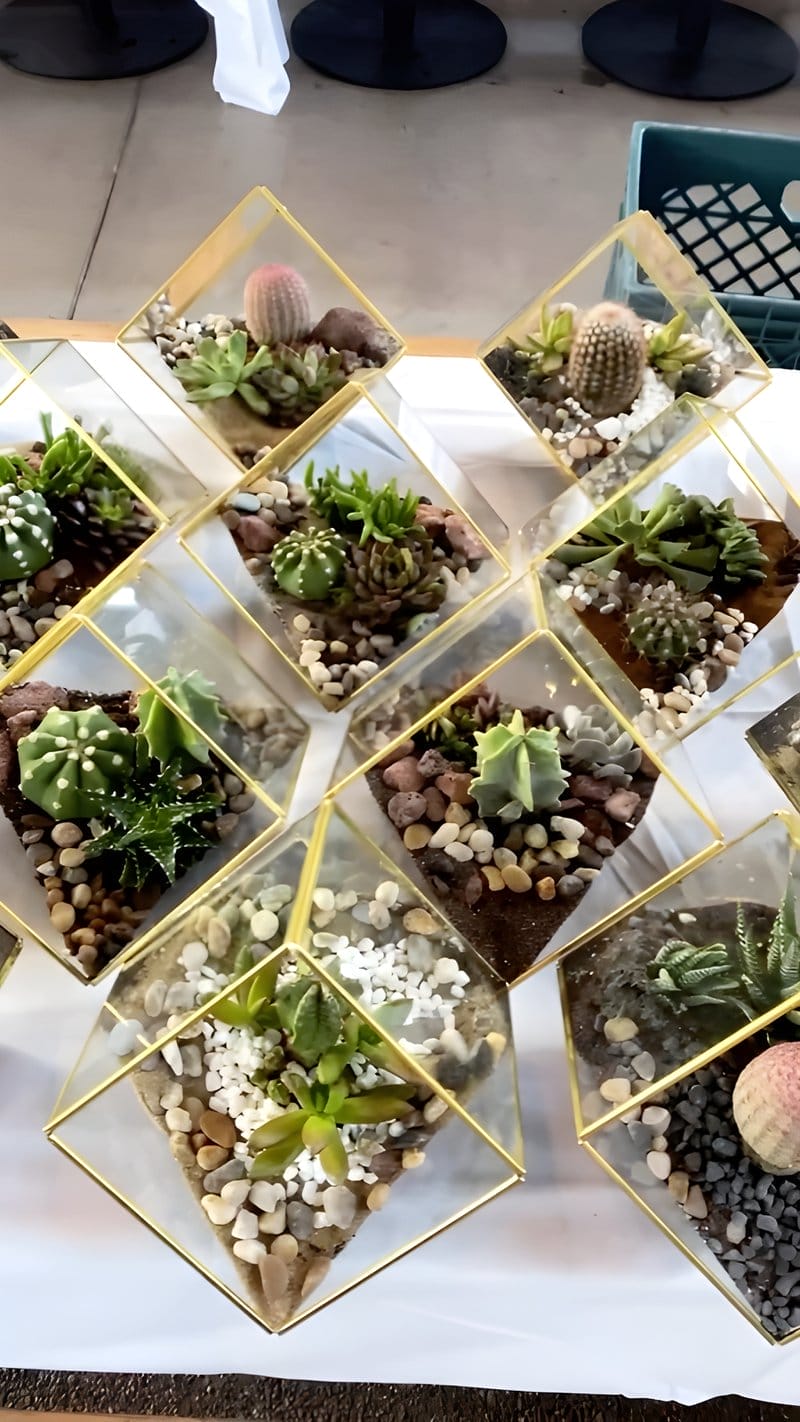 Miniature terrariums as wedding favors are truly charming! These little globes or cubes are like tiny worlds of nature, filled with small plants, pebbles, and moss. They not only add a magical touch to your decor but also serve as living keepsakes for guests.
Plus, they are low-maintenance and bring a bit of calming greenery indoors. So, these mini-terrariums are not just beautiful. They're meaningful and practical, too.
A truly wonderful way to share your love for plants with your guests!
Seed Pencils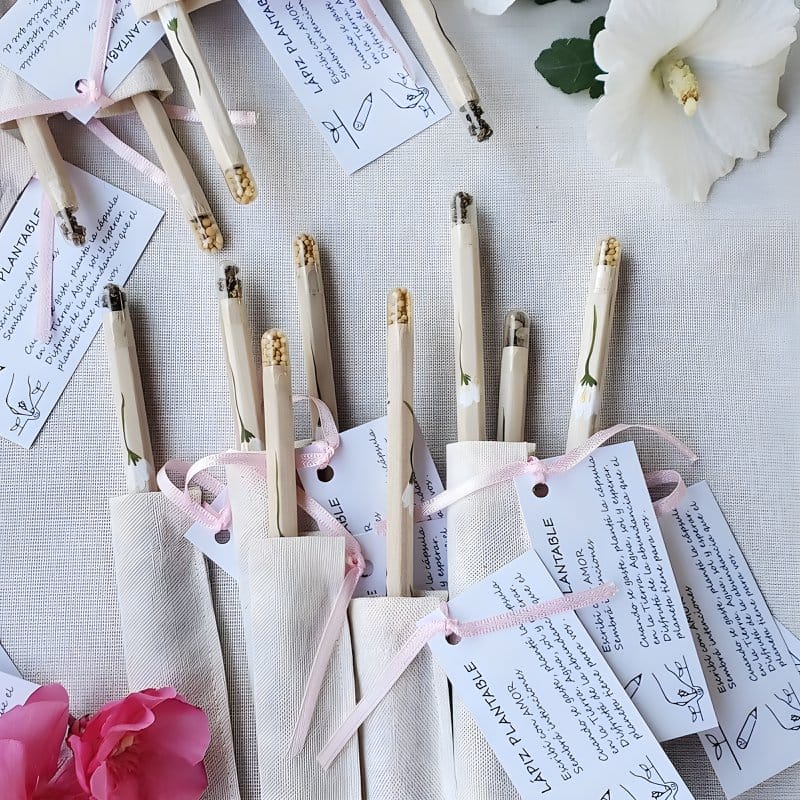 Give your guests some sprouting love with some environmentally friendly seed pencils.
A seed pencil is a wonderful product that combines creativity and sustainability. It's a regular graphite pencil, but wait for the twist: instead of an eraser at the end, it has a biodegradable capsule containing seeds inside. The best thing is you've got a range of options, from colorful flowers to delicious herbs.
By sharing these seed pencils as favors, we're not just gifting a token of our gratitude but also incorporating our passion for the environment and sustainable choices.
Plus, the fun doesn't stop at the wedding. Every time your guests use these pencils or plant them to see a new life sprout, they'll be reminded of your joyous union. So, these seed pencils are more than just a statement of eco-friendliness – they are a catalyst for cherishing memories, too.
Seed-Scented Bags Wedding Favors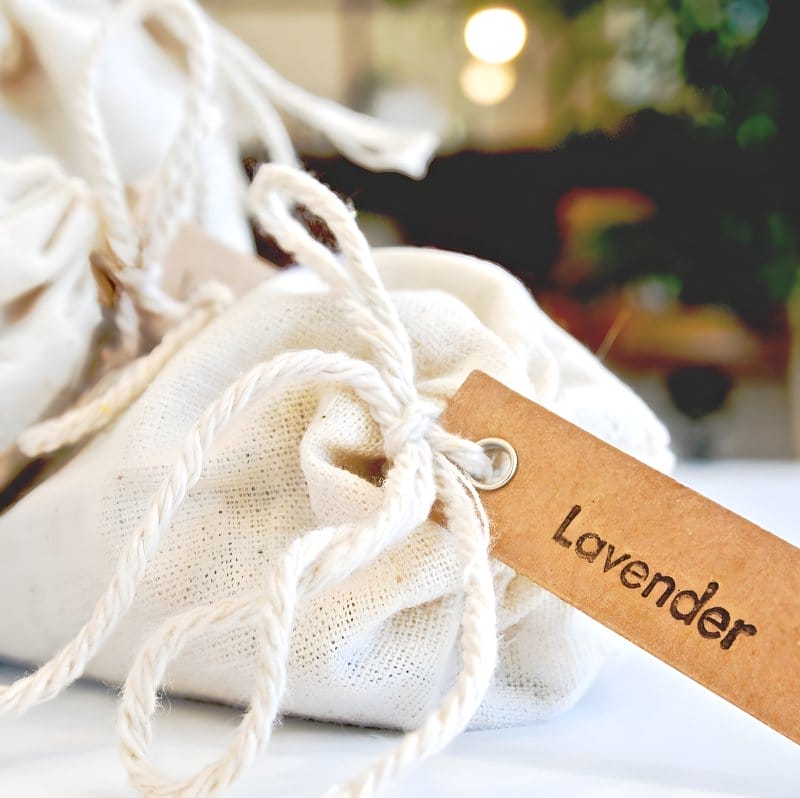 Lavender is well-known for its calming and soothing properties so these little pouches can bring a sense of tranquility to your guests' homes. They can be tucked into closets, drawers or even kept in the car to keep everything smelling fresh and pleasant.
What makes these favors even more charming is that every time the relaxing scent of lavender wafts through the air, it'll serve as a lovely reminder of your special day. Plus, they're incredibly eco-friendly and useful, which is always a bonus. So, your guests will receive a token of your appreciation and a gift that keeps on giving by making their spaces more aromatic and serene.
Air Plants – The Ultimate Low Maintenance Favor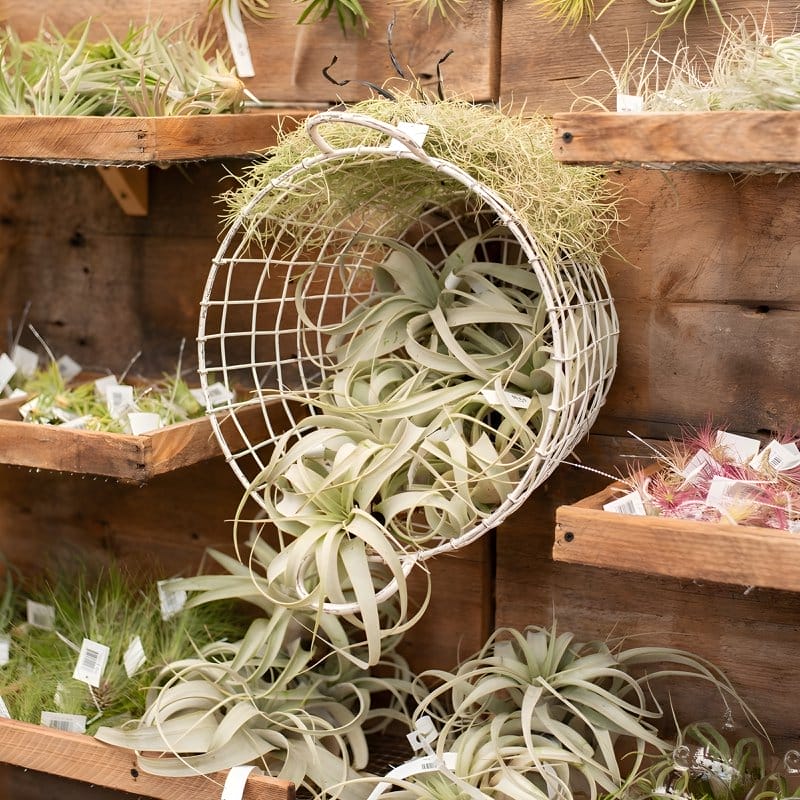 Air plants are a group of plants that don't rely on soil to grow – they absorb water and nutrients through their leaves! These fascinating green buddies are epiphytes, meaning they can grow on various surfaces, tree trunks, and rocks, making them the perfect wedding favor.
Their visual appeal stems from their unique, almost otherworldly forms. With over 600 varieties, each with its own peculiar shape, color, and texture, they truly are a visual treat. Their intricate leaf patterns, vibrant colors (especially when they're about to bloom), and ability to grow in unexpected places add to a charming spectacle.
As for wedding favors – they are just perfect! They're small, low-maintenance, and undeniably cute, making them a wonderful keepsake for your guests to remember your special day. Who doesn't love a little touch of green to brighten up their space?
Seed Wedding Favors
Seeds as wedding favors symbolize growth and new beginnings, much like the journey a married couple is embarking on.
When your guests plant these seeds, they will be reminded of the love and joy they witnessed on your special day. Every time they see the plants, it would serve as a living memoir of your beautiful celebration. Plus, it's an eco-friendly option that adds more green to our lovely planet.
Also, the customization possibilities are endless! You can choose seeds that are meaningful to you, maybe a flower that was prominently featured in your bouquet or a plant that has some significance to your love story.
You can also make the seed packets personal with a sweet note or a quote that resonates with your relationship. It's truly an intimate and thoughtful gift that keeps on giving.
Personalized Plant Identification Tags
Picture this – you've got these cute little plant identifier stakes.
But they're not just any stakes. They're customized to match your wedding theme or even engraved with your initials and wedding date.
And here's the kicker: they're not just decorative but practical, too! So every time your guests pot a new plant, they have a handy tool to mark what's growing and a sweet reminder of your special day.
Now, these stakes aren't just about looks. They're also all about being green and promoting sustainability. So, this favor is a double whammy for all those friends who love to garden. Plus, let's be real, weddings can get expensive. These stakes are budget-friendly but still manage to be stylish and meaningful.
Pair it with a packet of seeds, and you have the perfect gift for your wedding guests.
Native Trees
Looking for something more personable and local?
What about gifting native tree saplings as wedding favors?
It's like a blend of charisma, charm, and a touch of Mother Nature's magic! Native trees are not just your everyday gifts; they symbolize love, growth, and resilience – just like a blissful marriage.
Add a cute little name tag, and 'hey presto', each guest gets their unique, green friend! Plus, you're doing a solid for the planet. Talk about a green thumb, right?
But here's the best part – these trees are the gifts that keep giving. They grow as a living, breathing memory of your fantastic wedding day. Every leaf rustle will take your guests back to that joyous day. And guess what? Planting and nurturing their tree could become their new favorite hobby.
Succulents – Cute and Easy Wedding Favors
Succulents are undoubtedly the perfect wedding favor gift for guests. First and foremost, they are a joy to look at! Their vibrant colors and unique shapes give a quirky yet elegant touch to any table setting, creating a fun and lively atmosphere.
Plus, they have a way of transforming ordinary tables into mini botanical gardens, bringing a piece of nature into the wedding venue, saving you costs on table decorations! Now if that's not a WIN WIN., we don't know what is?!
When it comes to care, succulents are champions. They are incredibly low-maintenance, requiring little water and sunlight, making them ideal for green thumbs and those not so plant-inclined.
They're long-lasting, too, as a beautiful reminder of your special day for a long time. So, if you're looking for a wedding favor that's both aesthetically pleasing and easy to care for, succulents are the way to go!