Unique Gifts to Enchant the Indoor Garden: Ultimate Guide for Buying for Plant Parents
Are you wracking your brain to pinpoint the perfect gift ideas for plant parents? We know the struggle of wanting to impress your green-thumbed friends and family with something truly unique and thoughtful. Your search is over!! Browse our ultimate gift guide with creative ideas that will inspire you today!
How to Choose the Perfect Gift for a Plant Parent?
Everyone knows that choosing the perfect gift for your green-thumbed friends can seem as tricky as propagating a stubborn leaf cutting. But don't you worry! We've tailored this practical guide to help you choose unique and memorable gifts, one step at a time.
Step 1: Know the recipient's preference. One person's Peace Lily could be another person's nightmare – not all plant lovers share the same tastes! Some might love watching large Philodendrons sprawl every which way, while others may dig the minimalist charm of succulents. Understanding their plant preferences is a solid first step in picking the perfect gift.
Step 2: Consider their interior design. Look around their living space if possible; it'll offer valuable clues. Does their home have a rustic appeal, encouraging terracotta and wicker? Or perhaps it sings more modern vibes where sleek watering cans in chrome or brushed steel would fit right in?
Step 3: Factor in the size of space. Gifts do not always need to be planted! For those with limited spaces, consider smaller yet stylish items like striking wall-mounted grow lights or art prints featuring botanical themes.
Step 4: Sustainability matters. In this day and age, who wouldn't appreciate environmentally thoughtful gifts? For example, consider water-saving self-watering pots for those forgetful waterers or seeds that come in compostable packs.
Step 5: Price range consideration Keep in mind an appropriate budget range. Low-budget options could include adorable fridge magnets shaped like mini cacti, while higher-end possibilities stretch to fancy aeroponic indoor garden systems!
Remember, the best gifts come from understanding what they would genuinely appreciate mixed with your personal touch.
In our experience, the presents that mean the most to us are the ones with thought and have personalized details.
Unique Gift Ideas for Plant Parents
Let's inspire those gift-giving ideas with our round-up of some of the most creative presents we've seen.
Plant Plush!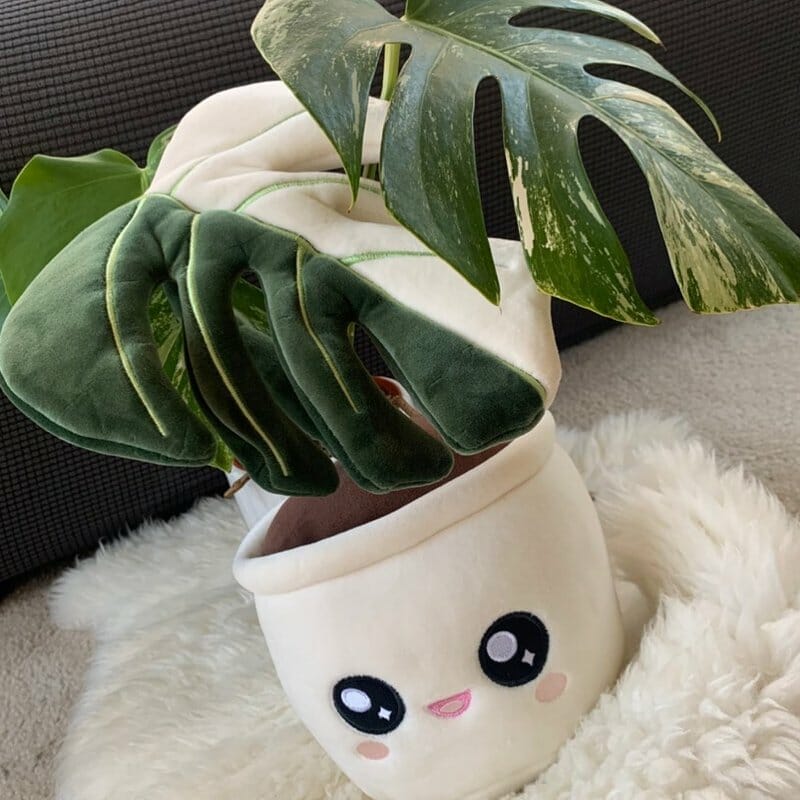 For those with friends and family that have too many plants (we all have one), maybe consider giving them one of these super adorable Monstera Albo Plant Plushies! At least this one doesn't need any maintenance and won't get any yellow leaves!
Plant Tote Bags
It is a well-known saying in the plant community that one can never have enough plants, and the same rule applies to calico bags and tote bags. Even if your plant parent friend has one lying around their house, they won't resist smiling at this cute plant-themed tote!
Minimalist Watering Can
A blue minimalistic watering can make a perfect gift for a plant parent due to its aesthetically pleasing and calming color that complements greenery, its simple yet elegant design that blends seamlessly with home decor, and its practicality in providing gentle, rain-like watering for plants. This tool is eco-friendly, helping conserve water, and affordable and immediately usable, making it a thoughtful and useful gift for any plant parent.
Stylish Hanging Pots
Hanging pot holders are a perfect gift for plant parents. They enhance interior aesthetics with their boho chic appeal and intricate designs. These holders maximize space, create vertical gardens, and improve plant health by providing better air circulation and light exposure. Their versatility and easy installation make them practical for different pots and plants.
Plant Earrings
Why not incorporate their plant passion into a personalized jewelry gift for your friend? We love the look these stunning leaf earrings can bring to your friend's look! Now, they can carry their calming nature tones with them wherever they go!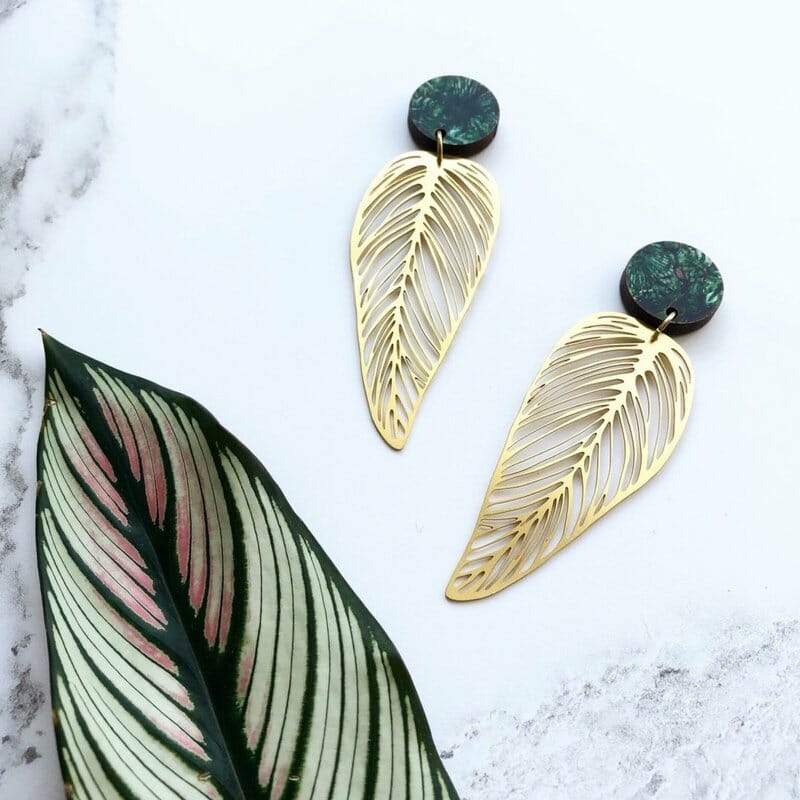 Cheeky Plant Husband
Calling all those fun-loving plant parents looking to give their plant babies a cheeky plant husband 😉😛
How fun are these little planter inserts? Your friends and family won't be able to contain their joy with these fun miniature figurines.
Planter Decals
Planter decals make a fantastic gift for a plant parent for several reasons. Firstly, they add a personal touch, allowing the recipient to customize their plant pots, reflecting their unique style and personality. Secondly, they are versatile and can be easily changed or replaced, offering a fun way to update decor regularly. Thirdly, they can act as conversation starters, adding charm and character to any plant collection. Lastly, they are practical and affordable, making them an ideal gift for any occasion.
New Pot Plant Tools
Gifting new gardening tools like scissors can invigorate a plant parent's approach to plant care. Replacing older tools renews efficiency and inspires modern gardening techniques, fostering learning and growth. This refresh of their toolkit can introduce exciting experimentation in their routine and add a layer of enjoyment to their plant care experience.
Wicker Baskets as Planters
Wicker baskets as pot plant covers make a wonderful gift for plant parents. They're lightweight, breathable, and have an earthy aesthetic that complements any decor style. The natural materials provide excellent insulation for plants, helping to maintain ideal soil temperatures. These baskets also allow for air circulation, promoting healthier root growth. Plus, they come in a variety of sizes and designs, fitting any plant and personal taste. Lastly, wicker baskets are eco-friendly – a feature that green thumbs will surely appreciate.
IMPORTANT – make sure the rustic feel of wicker baskets matches the interior design of your friend's home.
Abstract Plant Decorations
Abstract plant holders, like the ones with air plants in the picture above, can serve as unique gifts for plant parents.
They add an artistic touch and become focal points in any room. Their unusual shapes and designs contribute to a more engaging, visually appealing environment.
Displaying plants in abstract holders enhances their beauty, drawing attention to their greenery. They can transform mundane corners into vibrant spaces.
They're not just practical; they're also forms of art. Choose one that aligns with the recipient's taste and watch their indoor garden flourish even more.
Garden Seat with Tools
Okay, so this one isn't necessarily only for the indoor plant enthusiast, it can also be used for outdoor gardens. But we still think it is a great gift for any plant lover.
A garden folding seat with tool holders is the ideal gift for a plant parent for several reasons. Firstly, it offers comfort while gardening, reducing strain on knees and back.
It's portable, ensuring one can conveniently move around the garden with ease.
Secondly, integrated tool holders provide quick access to essential tools, enhancing efficiency and saving time.
Thirdly, its compact and foldable design makes it easy to store, even in tight spaces.
Lastly, it's practical and thoughtful, showing recognition of the recipient's love for gardening.
Misting Bottles
Misting bottles make a thoughtful and unique gift for owners of tropical plants.
These bottles provide hydration and maintain the humidity these plants need to thrive.
The use of misting bottles not only keeps plants moist but also creates a tropical environment, stimulating growth. It allows plant parents to replicate the natural rainforest conditions, ensuring their green companions stay lush and vibrant.
A misting bottle is not just a tool, it's a gift of care, enabling plant enthusiasts to nurture their tropical plants more effectively. Plus, it shows that you have given the gift a lot of thought by doing a bit of research into their passion. Surely, that is worth a few more brownie points. 😉
Propagation Vessels
A true indoor plant enthusiast can never have too many propagation containers or vessels! There is always cuttings or new plants growing along window sills or in bright corners of the house.
These glass tube-shaped propagation vessels are perfect for any serious plant parent. The glass allowed them to see the roots developing (in our opinion, the best part).
Plus, it has a handy stand that means they can propagate in style.