3-Tiered Raised Garden Bed DIY Instructions (with Photos)
Easy-to-follow instructions for building a three-tiered garden bed with worm farms. Perfect for those that like to get their hands dirty with a DIY project.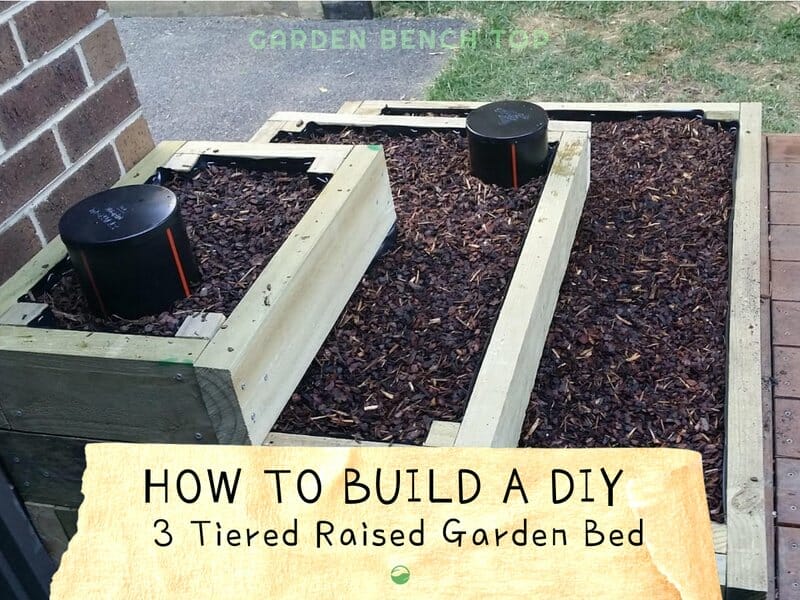 TL;DR
Raised garden beds are great ways to make the most of small awkward spaces
easy-to-construct boxes create a nice tiered effect
helps to keep your garden plants separated
We love a good tiered raised garden bed.
Not only do they look great, but they bring practicality to your garden.
They make reaching into your garden space easier and elevate plants to make the most of the available sunlight. We'll discuss the benefits of raised garden beds later in the article.
If you've landed on this page, you are probably keen to see how we constructed our very own DIY 3-tiered raised garden bed.
So grab your DIY gloves because we're about it dive in!
Step-by-step Instructions for a DIY Tiered Raised Garden
Materials Required:
measuring tape
saw
galvanized screws
drill
safety goggles & gloves
pond lining (optional)
staple gun (optional)
galvanized staples (optional)
1. Take Your Measurements – Preparation is Key!
The most crucial step is getting your measurements correct for your garden bed plan. It is so important, we'll repeat it. Get your measurements right! It will affect the rest of the DIY project – and save you a lot of unnecessary frustration.
With that in mind, we'll spend a bit of time walking you through the process so you can avoid the mistakes we made.
You may have heard the saying if you know a carpenter or have spoken to one.
the best advice is to measure twice, cut once
If we could provide you with the exact measurements, we would. But not all gardens and spaces are designed the same.
So you're going to have to take some of your measurements. Don't worry – take a deep breath – because we've got you.
As the saying goes, the key is to measure twice (even three) times and only cut once. Have we said it enough yet for it to sink in?
The structure of the garden beds is a very straightforward design. Here is a video by Homestead and Chill that shows the basic design we used for ours (FYI – we fast-forwarded the footage to the relevant point).
How to Measure for the Stacking Tiers?
We based everything on the base tier to determine the measurements of the middle and top tiers in our raised garden beds.
We divided the width and length of the base tier by 3 to work out the second and top-tier measurements. This meant we could achieve an even waterfall effect if we ever wanted to grow a trailing plant down the garden beds.
Our measurements looked like this (Length x Width x Height):
Base Layer: 120 cm x 92 cm x 29 cm (note – we stacked two layers of standard pieces of treated pine to give height to the garden bed)
Middle Layer: 80 cm x 61 cm x 14.5 cm
Top Layer: 40 cm x 30 cm x 14.5 cm
It is essential to understand these are the TOTAL lengths of each tier. As you will soon see in our tips (below), a few adjustments will need to be made to determine the cut lengths of each piece of wood.
Here are our tips for preparing to build your raised-garden beds:
When measuring the lengths of each side of the bed, remember to factor in the thickness (or the depth) of the pieces of wood you are working with. Our treated pine had a thickness of 5 cm, which meant when cutting the short ends of the wood, we had to reduce the length of the cut by 10 cm (2 x 5 cm).
If you are cutting your wood, always cut less rather than more. You can always shorten a piece of wood, but it's much harder and messier to glue portions onto a length of wood.
Wherever possible, incorporate the pre-cut lengths of the wood into your design. It will save you time and effort by reducing the sawing of the wood.
Don't worry if the tiers aren't exactly the design's exact proportion. We like an element of asymmetry in garden beds. It adds to the character of your garden.
2. Source Wood
The best wood type for garden beds is cedar because it is naturally rot-resistant. However, it is not cheap and sometimes not easy to source.
We chose to go with treated pine because there was a wood shortage when we built raised garden beds. We were concerned about the chemicals used to treat the pine leeching into our soil. However, we planned on using a pond liner on the inside to prevent it from coming into contact with the soil. You can also seal the inside of the wooden structure, which will help protect the wood from rot.
3. Cut the wood to size
Now our local wood supplier offers a cutting service, which helped immensely and saved hours of sawing. We provided them with the measurements, and they delivered easy-to-assemble pieces of wood.
However, we realize not all people will have access to such services, so this step is simple. Set up a space to safely cut your wood.
Or if you have the space, you can build large garden beds like Homestead and Chill did, with pre-cut pieces of wood.
IMPORTANT – don't forget to wear your safety goggles and gloves.
Proceed to cut your wood into the specified sizes you measured in the first step.
TOP TIP
Don't throw your scrap wood or cut-offs away. They will become handy when you need to prop up your frames and establish the joins of each rectangular frame.
4. Assemble the Pieces of the Puzzle
Now it's time to construct.
We like to lay the wood out in the position they will be assembled. This helps to ensure you have all the pieces. Plus, it saves time and prevents awkward situations of looking around for the right bits of the puzzle while pieces are hanging in limbo during the assembling phase.
With the galvanized screws, we start constructing the short ends and assemble them using the same process described in the Homestead and Chill video (above).
Once the short ends are assembled, allow gravity to do most of the work by resting the larger (longer) pieces of wood on top. Remember to work smarter, not harder!
We had to use our resourcefulness to work out how to prop up one corner of each of the middle and top garden bed tiers.
In the pictures, we used cut-offs from the remaining wood and a spare jar, which were the perfect height to prop up our upper tiers.
There's nothing like a bit of upcycling of junk or items that would otherwise end up in a landfill!
Alternatively, you can use bricks or cinder blocks to prop up the corners.
5. Line the Inside with Pond Lining (optional)
This step is entirely optional. However, we wanted our DIY tiered raised garden bed to last the distance – which means we needed to protect it from rot.
To offer protection, we lined the insides with a pond liner.
We'll be honest, the process was challenging but well worth the effort. We were so happy to have finished lining the garden beds, we forgot to take a picture. But you can see it poking out a bit in this picture.
We know we can throw anything in there, and the microfauna won't be eating our 3-tier garden bed, causing it to disintegrate and break down quicker than we would like.
We used corrugated staples (weather-proofed staples), which prevent the staples from rusting from exposure to moisture and oxygen.
An alternative to using a pond liner is sealing the wood with a non-toxic sealer before you fill it with soil.
6. Fill Your DIY Tiered Raised Garden Bed
So, we'll be honest here. The amount of soil to fill our raised garden bed caught us off-guard.
We didn't realize just how much soil would be required!
We recommend finding a cheap place to source bulk garden soil to fill your beds. We also mixed some homemade compost and manure into the soil to give it a good balance of nutrients.
There you have it – your very own DIY tiered raised garden bed!
We wanted to incorporate worm farms into our design because we love our worms. They are so beneficial to our plants and soil – we include them anywhere we can.
We were delighted with the outcome.
And we are happy to report it is still a thriving part of our garden with no evidence of rot! We'd almost say it is our favorite part of our little suburban garden because it is viewable from the dining table, which makes it an integral part of our daily routine.
Benefits of Raised Garden Beds / Planter Box
Apart from looking good, there are other benefits of incorporating raised beds into your garden.
Here are a few of our favorites:
Easily accessible – this raised garden bed is directly outside our kitchen (4-6 feet). Which is an absolute time saver. With the worm farm towers, we walk out and dump our organic waste into the tubs (no more smelly waste collection in tubs around the kitchen). We use our raised garden as a herb planter with oregano, fresh mint, lemon thyme, and lemon balm leaf. It makes it easy to pick when you have a pot of pasta sauce bubbling away on the stovetop.
Soil quality control – raised garden beds generally have less compacted soil than beds in the ground. It is also easier to till and aerate the soil because it is at a more convenient height. You can also alter the soil composition much easier than ground soil, especially if you live in sandy areas or places with high clay content in the soil. Believe us when we say your back will thank you for it!
Better drainage – because you can control the soil density, drainage is better, and the chances of rot are less likely in raised garden beds.
Temperature advantages – raised garden beds will warm up quicker than the ground soil, especially when the winter freeze is over. Because they are exposed to the spring sun, they will thaw quicker and begin sprouting much quicker than plants or seeds planted in the frozen ground.
DIY Tiered Raised Garden Bed – Closing Comments
Building your own DIY tiered raised garden bed may initially seem daunting. However, with this guide and some can-do attitude, you will soon discover it is easier than you thought.
We suggest taking your time to measure your garden space correctly and planning the wood lengths properly before making any cuts.
Once you have all the puzzle pieces, all that is required is to assemble everything.
Easy as pie!
Send us pictures of your DIY tiered raised garden beds – we love to see the creativity of our community!