Spooky Greens: Indoor Plant Halloween Decoration Ideas
As the leaves turn golden and a cool chill fills the air, the time for the spookiest season of the year is nigh – Halloween is upon us! Embrace the eerie spirit with a unique twist this year by infusing your love for indoor plants with a touch of Halloween magic.
In this guide, we'll stoke the cauldron of creativity, stirring up some enchanting ways to transform your luscious green friends into ghoulish Halloween masterpieces. Whether you're a seasoned plant parent or a budding green thumb, these hauntingly beautiful ideas will spark your imagination and make your indoor garden the center of your Halloween décor.
Marvelous Houseplant-Inspired Halloween Costumes
Create a sense of whimsy by dressing up as your favorite houseplant!
Firstly, it's all about expressing creativity. The challenge lies in choosing a plant that resonates with your personality. Are you a prickly cactus or a lush fern? This is a unique chance to stretch your creative muscles in a fun and unusual way.
Secondly, it's an instant conversation starter. Picture this – you arrive at a party dressed as a fabulous Ficus or a majestic Monstera. You're bound to attract attention and start interesting conversations. It's also an excellent icebreaker and a sure way to make your entrance memorable.
Dressing up like your favorite house plant offers a beautiful connection with nature. In our digital age, feeling detached from the natural world is easy. This fun activity reminds us of our relationship with nature and the importance of environmental preservation.
The process can also be a form of stress relief. Designing and creating your outfit provides therapeutic value. It's an immersive DIY project that lets you unwind and de-stress after a long week.
Finally, think of the photo opportunities! Your unique and awesome look is perfect for fun snaps or a full-blown photo shoot. Your social media followers won't know what hit them!
Frightening Fabulous Pots
Unleash your creativity this Halloween with our selection of Frightening Fabulous Pots, specifically designed for indoor plants.
They're spooky and stylish, transforming your houseplants into chilling decor pieces that will create a hauntingly beautiful ambiance.
Halloween is the perfect time to let your imagination run wild and have fun with your decor. Our Frightening Fabulous Pots offer a delightful twist on your usual indoor plant pots, lending an eerie charm to your home.
Who said Halloween decor can't be chic? With these pots, you'll elevate your love for Halloween. Not only do they add a hint of spookiness to your space, but they also exude a sense of style bound to catch everyone's attention.
Imagine the joy of adding a touch of Halloween magic to your everyday houseplants. The thrill of seeing your favorite succulent peeking out from a pot with a creepy-crawly spider design or your pothos draping over a pot that sports a grinning jack-o-lantern. It's like throwing a costume party for your plants!
And the fun doesn't stop there. You can even involve the kids in placing these pots around the house. It's a great way to excite them about Halloween and houseplants. Plus, it's a wonderfully wholesome activity that promotes creativity and imagination.
Incorporating these Frightening Fabulous Pots into your Halloween decor is an exciting way to celebrate this spooktacular season. They're more than just pots; they're conversation starters and pieces of art, and most importantly, they're a lot of fun.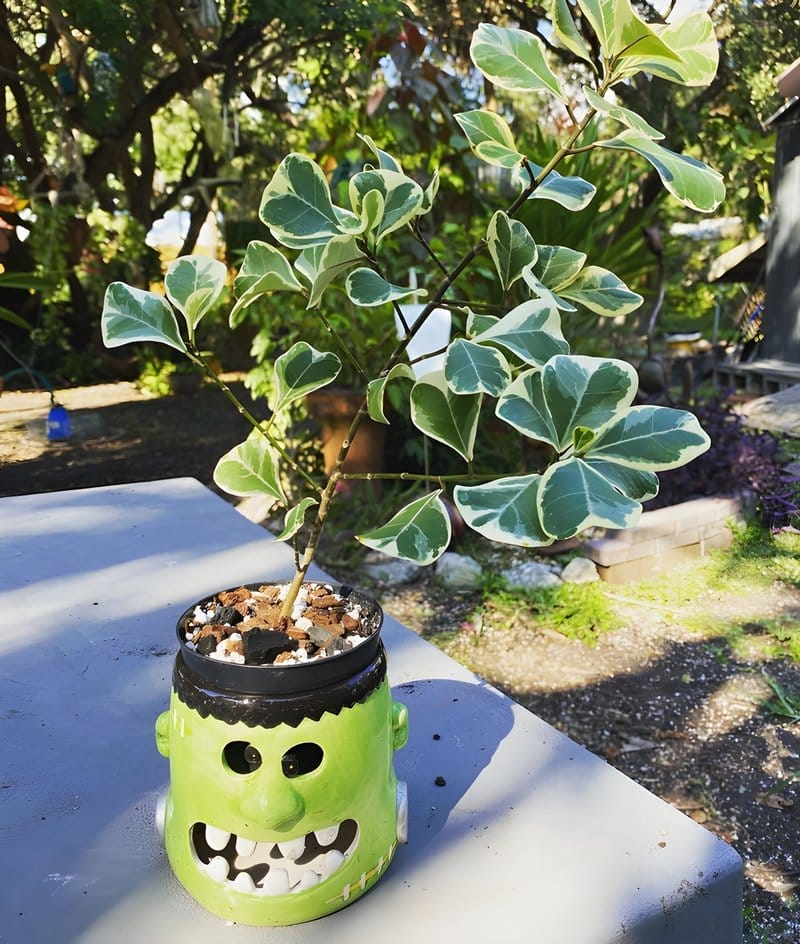 Embrace the spirit of Halloween and let these Frightening Fabulous Pots take center stage in your home decor this season. After all, nothing screams Halloween quite like adding a dash of fright to your flora!
Seriously, Spooky Indoor Plant Halloween Decorations
Step into the shadowy realm of Halloween with an unexpected twist – your houseplants. Let's delve into a unique fusion of chilling charm and flourishing life with ideas for seriously spooky indoor plant Halloween decorations.
Halloween offers the perfect excuse to let your creativity run wild, and your indoor plants provide the perfect canvas. Imagine a delicate spider web masterpiece draped over your Monstera or a cute pumpkin face grinning from your succulent pot. It's not just decorating. It's an artistic adventure!
Taking on this unique challenge of incorporating your houseplants into your Halloween decor is a thrilling task. You'll be channeling your inner interior designer before you know it. Not every day you get to contemplate how your Spider Plant might look wearing a witch's hat.
And let's not forget the social aspect. This can be a fantastic activity to engage the whole family or your friends. Who knows what spooky ideas they might come up with? It's also a great conversation starter when guests admire your unique plant decorations.
Traditional Halloween decorations tend to lean towards the macabre. But when you pair them with the lively green of your houseplants, it breathes a fresh life into the eerie atmosphere. It's a celebration of life amidst the spooky charm of Halloween.